While Toyota has been slow to introduce all-electric vehicles, it's easy to forget that the Japanese automaker continues to be a leader in hybrids, plug-in hybrids, and hydrogen cars. The automaker may only have one EV on sale with the bZ4X, but Toyota has plans to introduce 10 new EVs and sell 1.5 million electric cars by 2026. In order to reach those goals, Toyota's going to have to step up its EV tech, which it plans to do with the introduction of high-performance, solid-state batteries.
The news comes from the automaker's technical briefing session, "Toyota Technical Workshop," where it announced quite a few plans for its future electric vehicles. The main focus of the briefing is that Toyota is looking to develop solid-state batteries and it is claimed that it has made a "technological breakthrough" that fixes known issues with the durability of solid-state batteries. Toyota is reportedly looking into ways to mass produce the batteries for its EVs and has a target date of bringing them to market by 2027 or 2028.
Solid-state batteries are seen as the silver bullet for electric vehicle adoption, bringing more range and better performance over current battery technology. Toyota expects range to grow by roughly 20% with solid-state batteries. Most automakers are looking into solid-state batteries, but they're incredibly expensive to produce.
Since Toyota's timeline leaves a few years before the solid-state batteries will arrive, the automaker will also be looking into other types of improved batteries. The automaker confirmed that it will be launching a more energy-dense nickel cobalt manganese lithium-ion battery pack by 2026. This battery pack will have a reported range of 621 miles and be able to charge in just 20 minutes. Don't expect to see these batteries in regular Toyotas, as they'll be saved for luxury and high-performance models. More affordable vehicles are expected to get a similar battery with less range.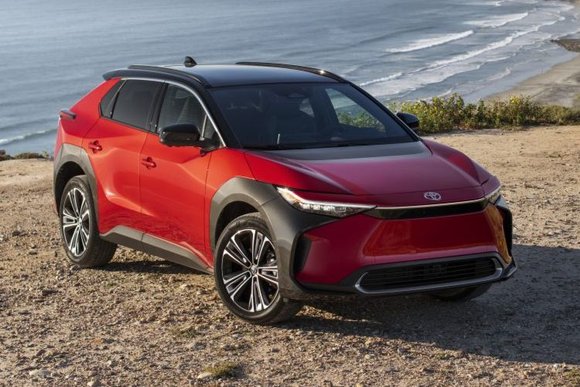 Toyota's battery plans signal the automaker's push to expand the number of EVs it sells. In order to increase the number of EVs it can make, the automaker will expand its production facilities. To increase the profitability of its EVs, Toyota plans to use giga-casting technology, which involves using high-pressure aluminum die-chasing machines, for its future electric platforms. This should reduce the number of sheet metal parts the automaker has to use and bring costs down. This production method is already in use by Tesla.
Another change Toyota will be making is to rely on a self-propelling assembly line instead of a conveyor-style line. This will allow the automaker to automate more aspects of the process, reducing the number of workers needed to produce a model, increasing flexibility, and adding independence to the process.
In an attempt to make its EVs eligible for the EV tax credit under the Inflation Reduction Act, Toyota will establish a battery plant in North Carolina and an assembly plant in Kentucky for a three-row electric SUV.
These plans may seem farfetched for Toyota, but the automaker needs to make some major changes if it wants to catch up to its competitors. Solid-state batteries, new facilities in the US, using giga-casting technology, and more energy-dense lithium-ion batteries all sound like the way Toyota can make EVs that are competitive.
Pictured: 2023 Toyota bZ4X
Source: Reuters
Explore the Best EV & Hybrid Lease Deals